Meet Our Saint Augustine Legacy Donors
We thank all our planned-gift donors for their generous support. Here are some of their stories.
Robert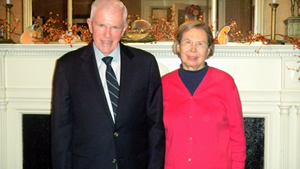 My journey with the Augustinians began in 1948 in Staten Island, New York. I was in the eighth grade at Sacred Heart School and was thinking about high school. My brother was a graduate of Regis High School in Manhattan. I saw what that entailed! He would get up at 5:00 AM, walk to the bus stop, ride a bus to the ferry, take the ferry to Manhattan and take two subway trains to Park Avenue and 83rd Street. I was quite sure that I did not want that experience. I took the entrance exams for admittance to several Catholic schools in lower Manhattan and was accepted. But, somehow they just did not appeal to me.
The sister who was teaching the eighth grade at Sacred Heart asked me if I had considered the Augustinian Academy. I said, "What's that?" She said, "it's a high school up there on the hill," meaning Grymes Hill. I looked into it and found out that an entrance exam was scheduled in the near future. I went up to "the hill" and took one look at the place and said to myself, "this is where I am going to high school." I had never seen anything like it. The grounds were manicured and it the buildings' Spanish style architecture was impressive. I was admitted and spent four happy, productive years at what was truly a great school.
In those days, the teaching staff was entirely made up of Augustinian Friars. All of them had master's degrees which I suspect was unusual at the high school level at that time. This was my first encounter with the Augustinians. Little did I know then, that this relationship would continue to the present day.
Founded in 1899 as "The Catholic High School in Richmond Borough" (Staten Island), the Augustinian Academy was a preparatory school for boys. The emphasis was on academics, athletics and Augustinian spirituality. The school was also a minor seminary of the Augustinian Order. Some half of the student body was made up of postulants, boys who were considering the priesthood. In those days boys were accepted into this program in their freshman year of high school.
Sadly, the Academy was to close its doors in 1969. The Augustinian Academy Alumni Association, of which I am now president, continues to be active. Incredibly, after the academy being closed for 44 years, some 75 graduates of the Academy gather each year for fellowship and a renewal of age-old friendships! The motto of the Academy was Gaudium in Veritate ( joy in the truth). To preserve the memory of the Academy and what it meant to its students, a history of this school has been written and published by myself and the late Thomas J. Conway, Jr.
In addition to producing graduates who would become research scientists, engineers, physicians, dentists, lawyers, federal and state judges, the Augustinian Academy educated some 250 young men who were ordained Augustinian priests. These include the present Prior Provincial of the Province of Saint Thomas of Villanovan, Father Mickey Genovese, O.S.A.; Father Michael F. DeGregorio, O.S.A. a former member of the Augustinian Order's curia in Rome and Father Edmond J. Dobbin, O.S.A. who for 19 years served as the President of Villanova University.
After graduating from the Academy, I continued my association with the Augustinians at Villanova University. Both the Academy and Villanova were outstanding educational experiences.
In later years, I collaborated with the late Father John Rotelle, O.S.A., then the Secretary of the Province of Saint Thomas of Villanova. After retiring from a career in the pharmaceutical industry, my wife Jeanette and I purchased a language company. We were able to help Father Rotelle, O.S.A. in having a number of works on Augustinian spirituality translated into non-English languages.
My experience with the Augustinians, over some fifty years, has been a Godsend to me. I truly owe the Augustinians a debt that can never be repaid. However, to try to help the Augustinians in their age-old ministries of education, parish work and missionary activity and in the care of their older and infirm brothers, we have designated a legacy gift to the Augustinian Fund. This will be a percentage of the portfolio that remains upon our deaths. It is a small way of saying "Thank You."
---
Dag & Patty
Dag & Patty are parishioners at Our Lady of Good Counsel Church in Staten Island, N.Y. and recently celebrated their 40th wedding anniversary. The couple was married at Our Lady of Good Counsel, their children received their sacraments at the parish, and their grandchildren attend the parish school. While celebrating their 40th Anniversary in Italy, Dag & Patty wanted to give thanks to the Augustinians by making a pilgrimage to San Gimignano. While there, they happened to run into some students from Villanova University and Fr. Joe Mostardi, O.S.A., whom they knew from when he was stationed at Our Lady of Good Counsel. Dag & Patty were happy to see a familiar face and deeply inspired by the faith of the young students. (The picture above is from Dag & Patty meeting Fr. Joe at San Gimignano). While Dag & Patty support their parish, they also want to take care of older friars who gave so much to the parish community, and help promote new vocations. In addition to their annual financial support and bequest to the Augustinian Fund, they have committed to praying that some of the young men they met on their trip, and others like them, will one day be Augustinian Friars.
---
Anthony
The Augustinians have always played an important role in my life beginning with my early years at Villanova and when my wife, Patricia, and I married and began our family together. I always knew that I wanted to give back to the Augustinians as a sign of gratitude for all they have meant to me and my family. Sure, I give to Villanova also, but I wanted to make sure the Friars were also taken care of in their older years. I knew there were others who felt the same way, and formed the Saint Augustine Legacy Society. My wife and I decided that a bequest would be the best way to take care of our family needs and give back to the Augustinians at the same time.
While experiencing the Augustinian's work in the South African missions, a few years ago I knew that I was choosing the right organization in which to create a legacy!
---